Albert Tordjman's Homepage. Welcome!
Albert Tordjman - Guest Chef and Restaurant Consultant. Pattaya, Thailand
Hi! My name is Albert Tordjman. I am offering a new service in the hope of advancing the Culinary Arts. I have been in the restaurant hospitality industry for the past 30 years. I have had a great career and in the hope of continuing so, I would like to offer my services as guest Chef, training Chef, restaurant consultant and grand opening Chef.
A little more about me
In 1986 I was the opening Chef for the California Culinary Academy and in 1988 I moved to hold the position of Executive Chef at Auberge du Soleil. In 1989 I worked with Robert Mondavi and then in 1990 became one of the great Chefs of Napa Valley. The pinnacle of my career was in 1990, when I opened the critically acclaimed 'Flying Saucer' in San Fransisco. I sold the 'Flying Saucer' in 2000 because of a car accident. I opened a restaurant in Northern California in 2001 called the 'Red Gypsy' and in 2003 I sold that restaurant and moved back to San Fransisco to do Consulting work. Two years ago I moved to Thailand and now live in Pattaya with my wife.
What is on this webite?
Click on the menu bar, above, to find out more about Albert and look at some of his food, his menus and his reviews. Please note that this site is currently in construction. Last updated 19/02/2006.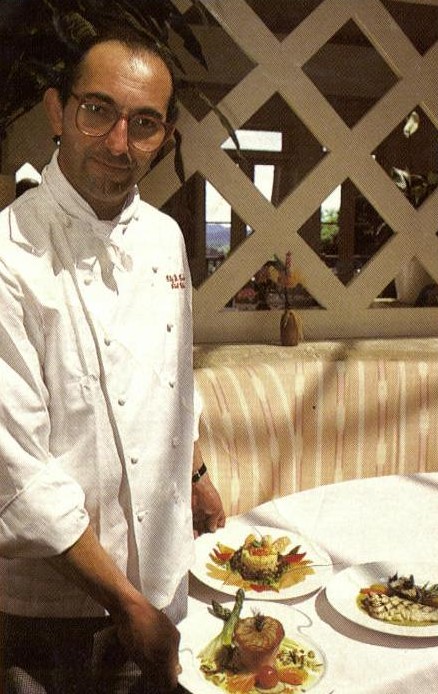 Photo: Albert as photographed by ELLE magazine.
Visitor Counter: 19313
Albert hard at work in the kitchen! Click the picture to see some of Albert's culinary creations.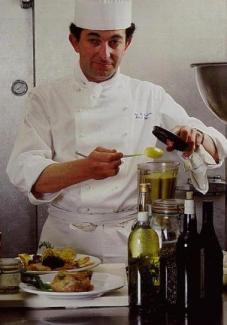 Look at some of Albert's past Menus. Click the Menu below. Click the link below to email Albert Click the link below to sign Albert's Guestbook.